Siesta Promenade will be a first-class development that proudly serves the community at-large.
General Benefits of Mixed-Use Projects
Spurs revitalization & enhances vitality
Encourages high quality design by providing both greater flexibility and more control
Promotes a village-style mix of retail, restaurants, offices, civic uses, and multi-family housing
Provides more housing opportunities and choices
Increases affordable housing opportunities
Enhances an area's unique identity and development potential (e.g., village centers, locations near bike
paths, or "gateway" areas that announce a community's strengths)
Promotes pedestrian & bicycle travel
Reduces auto dependency, roadway congestion, and air pollution by co-locating multiple destinations
Promotes a sense of community
Promotes a sense of place
Encourages economic investment
Promotes efficient use of land and infrastructure
Guides development toward established areas,
protecting outlying rural areas and environmentally
sensitive resources
Improves a municipality's Commonwealth Capital score
Embodies "Smart Growth"
Siesta Promenade Community Benefits:
Additionally, sidewalk gaps will be completed at the following locations:
Hazelwood St. from Glencoe Ave. to Beechwood Ave.
Southwood St. from Beechwood Ave. to Phillipi Estate Park (via Wildwood Ave).
Stickney Point Road and US 41 are both major corridors and define a commercial area that is sensitive relative to the unique quality and value of Siesta Key. As such, Benderson understands the importance of ensuring the project is compatible with the existing roadways to ensure safer, more efficient travel through the area. That is why several improvements are proposed to the road network following a detailed traffic analysis that has been thoroughly reviewed by FDOT and Sarasota County.
The intersections and roadways within the study area are expected to operate at acceptable LOS with the build-out year (2024) total traffic, with the following improvements:
Extension of the existing westbound merge lane to create a continuous westbound right turn lane along SR 72/Stickney Point Road from US 41 to Avenue B and C;
Installation of a traffic signal at the intersection of SR 72/Stickney Point Road & Avenue B and C;
Construction of an exclusive eastbound left-turn lane at SR 72/Stickney Point Road & Avenue B and C;
Construct a southbound to westbound right-turn lane from US 41 to Crestwood Avenue (based upon the availability of Right-of Way).
Realign Crestwood Avenue consistent with the Development Concept Plan
Extend the US 41 northbound dual left turn lanes to provide additional stacking.
Traffic calming improvements will be employed along adjacent residential, local streets based upon a collaborative process with the neighborhood administered by County Public Works Staff to determine the most appropriate traffic calming measures to preserve the cohesion and integrity of existing neighborhood environments and mitigate transportation impacts on the surrounding neighborhoods. Implementation of measures that the County determines are feasible will follow this public input process to address the speed and volume of traffic on local roadways within the surrounding neighborhood.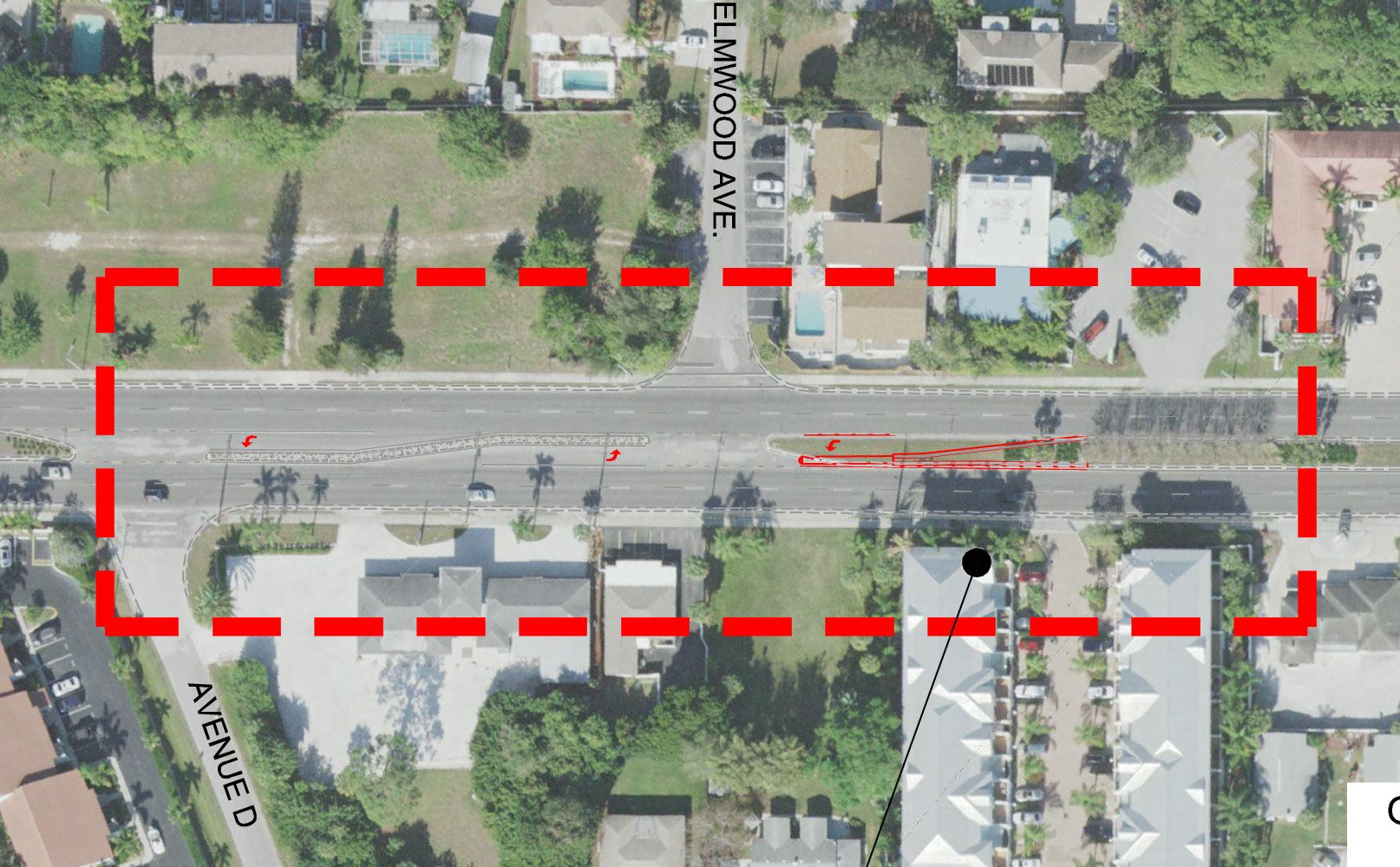 For the latest news & updates as the Siesta Promenade project gets under way, please Like and Follow Us on social media.